A Woman Was Brutally Abused for 6 Days by a Man She Met on Tinder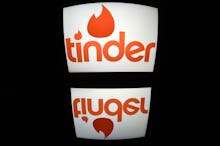 A woman in Lawrence, Kansas, was beaten and held against her will for six days in April by a man she met on the dating app Tinder. 
The Lawrence college student — whose name wasn't released — met 30-year-old Shane Steven Allen on Tinder and was kidnapped after their second date, Lawrence Journal-World reported. 
Allen subsequently abused the woman throughout the six-day period, refusing to take her home per her multiple requests. On April 18, he agreed to finally take her home when she told him she wouldn't contact the police. Later that day in the hospital she was found to have two black eyes, scrapes, bruises and other injuries. 
Allen is being held in the Douglas County Jail, and if convicted of the five felony charges, he could face 32 years in prison. In addition, his profile has been wiped from the Tinder platform. 
A Tinder spokesperson released the following statement on the incident in an email to Mic: 
"We are truly shocked and saddened by these events. Our thoughts are with the victim and we will work with law enforcement to help with this investigation. The suspect has been removed from our platform.
A cursory search for stories about online dating that resulted in violence, "online dating murder" to be specific, reveals tragically and unsurprisingly there have been an unsettling number of instances in the past few years. According to the National Network to End Domestic Violence, three women die each day because of intimate partner violence. Mic's own Jenny Kutner wrote about 14 women who were brutally attacked for rejecting men — which is exactly what happened with the woman in Lawrence.  
According to Lawrence Journal-World, Allen's abusive spree was sparked when he believed his date to be flirting with his friends. 
The question stands as to what responsibility these dating apps have to keep women safe. But the root of the problem is evident, and it's not dating apps. Men murder women every day, dating apps are just another platform for men to find their targets.