NYC Just Launched Its Most Progressive Initiative Yet for Women and Girls of Color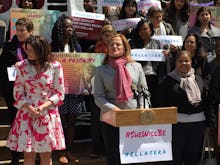 In 2014, President Barack Obama made a commitment to bettering the lives of the nation's young boys of color with his "My Brother's Keeper" initiative. A year later, New York City Mayor Bill de Blasio doubled down on predecessor Michael Bloomberg's 2011 Young Men's Initiative, a similar program devoted to supporting the city's black and Latino men.
But even as many applaud these programs for being powerful and necessary, they leave a pressing question in their wake: What about women?
New York City's Young Women's Initiative is a direct response to the girls and young women of color neglected by these efforts. New York City Council Speaker Melissa Mark-Viverito announced the program's launch in May 2015, and on Monday, on the steps of City Hall, she presented a blueprint on how the city council would work toward institutionalizing success for its young women of color. 
The resulting report boasts over 100 policy recommendations for the city's legislators, covering health, economic and workforce development, community support and opportunity, education and anti-violence and criminal justice. The council, along with philanthropic groups such as the New York Women's Foundation, have donated $20 million in funds to implement the policies.
"You are women who embody what it means to be inspirational," said Mark-Viverito, who was flanked by about 50 women involved in the initiative. "You are mentors, supporters and fighters — luchadoras. You are the future of our city. You are in the business of opening doors and shattering glass ceilings and you're making a real difference in the lives of women and girls across our city." 
Mark-Viverito's forward-thinking message is summed up via two hashtags: #SheWillBe and the Spanish translation #EllaSerá.
Read more: Why the Workplace Gender Gap Is Worse for Women of Color
To solve any problem, you must first know how bad the problem is. When Cherno Biko, the co-chair of the Young Women's Initiative advisory board, and city council members involved in the initiative sought out government data on the lives of young women of color in the city, they came up with nothing. 
A group of women on the advisory board, including activist and scholar Kimberlé Crenshaw who acted as their mentor, began working with the city to collect and report on the data, and were able to create a snapshot of the lives of New York City's 411,339 black and Latina women, ages 12 to 24.
According to a press release put out by the initiative, they found 41% of them live on food stamps. The average household income is $59,216 as compared to the rest of the population's $87,420. They found black and Latina women in the city are the most at-risk group for new HIV diagnoses. And almost 60% of young black women under the 18 are sexual abuse survivors.
When they confronted these statistics, Biko knew they had to tackle these big issues with big ideas. 
"They told us to dream big — to lay it all out on the table," Biko said Friday in a phone interview. "'What's your dream? What do you want?' So we said, 'Decriminalize sex work. Decriminalize HIV. Close Rikers."
Included in the report are calls to improve access to transgender health services, improve female students of color's access to career counseling in schools, close gaps in the foster care system and develop a task force to support runaway youth.
The recommendations found in Monday's report weren't passed down from a committee of council members locked behind heavy mahogany doors in a City Hall chamber, but from the very populations they seek to impact: girls and women of color including (and especially) trans, undocumented and disabled women of color ages 12 to 24.
These young women, who made up the initiative's advisory council, met at City Hall once a week to work on the policies. But as they began to get to the heart of the issues, Biko realized some voices had been left out.
"It was important for us to take up that space," Biko said of their meetings. At Monday's press conference, she recalled when trans activist Sylvia Rivera, who fought for LGBT rights during the Stonewall Riots, was arrested for climbing the walls of City Hall to enter a closed council meeting. "We don't have to climb the side of a building anymore," Biko said.
"It's got to be all of us or none of this time."
But on Friday, Biko emphasized they had to realize they were in a space of privilege. Anyone entering the building must go through a security checkpoint, she said. Trans women, for example, might run into trouble if their ID didn't correspond to their gender identity. Undocumented women might not have an ID at all, or be triggered by government security. Women with disabilities might have a hard time even getting to the building.
As a solution, Biko and her co-chairs Amanda Matos and Gloria Malone began hosting breakout sessions at local community centers and other more accessible locations around the city.
"It's got to be all of us or none of us this time," Biko said.
The young women of the advisory board will continue to guide council members as they allocate the $20 million in funds to revamping existing programs as well as creating new ones. 
At Monday's press conference, Biko and her colleagues stressed that while the Young Women's Initiative is specific to New York City, the program is a nationwide call to action. According to the initiative's co-chairs, council members in as many as 10 other cities including Memphis, Dallas, Los Angeles and New Orleans have already begun working on their own such programs.
"There's no time to rest," said Joanne Smith, the initiative's co-chair. "We can celebrate, but we have to keep up the momentum because time is too sensitive and it's too critical." 
Danielle Moss Lee, president and CEO of the city's YWCA and the Young Women's Initiative's co-chair, emphasized it's about more than just policymaking. 
"We want to change the script from 'Black and Latino girls are difficult, are promiscuous, are challenging, they don't accept authority' to 'black and Latino girls are beautiful, are courageous, are impactful,'" Lee said. "We have the keys to move this city forward."