Marvel's 'Black Panther' Is Going to Be So Lit, Says Twitter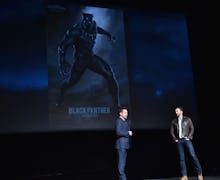 Marvel announced a Black Panther film back in 2014. But this week, two casting announcements have fans excited about just how lit the superhero movie, due out in 2018, will be. 
The Hollywood Reporter reported friday that Michael B. Jordan, star of Creed and Fruitvale Station, joined the production; Oscar winner and #OscarsSoWhite advocate Lupita Nyong'o began talks to join the film as well. Jordan and Nyong'o will join Chadwick Boseman who plays the movie's titular hero and director Ryan Coogler, whose past credits include Creed and Fruitvale Station. 
As news of the casting announcements piled up, Twitter couldn't contain its collective enthusiasm anymore — thus a hashtag was born: #BlackPantherSoLit. 
Posters using the hashtag expressed the sheer joy of seeing so many of Hollywood's young, black stars share the screen together in a film helmed by Coogler, who has a knack for making critically acclaimed films with fully developed black characters. People tweeting their excitement about the film included director Ava Duvernay and Twitter user ReignofApril, who began the #OscarsSoWhite hashtag. 
To find out just how lit Black Panther will be, we'll have to wait until July 6, 2018. But for now, those wanting to see the Wakandan superhero on screen can get their fix in Captain America: Civil War.