The Internet Is Freaking Out About This Antifeminist Political Cartoon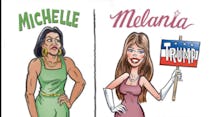 A political cartoon is drawing the ire of Twitter users for the antifeminist values that seem to have inspired it.
The cartoon, titled #MakeTheFirstLadyGreatAgain juxtaposes Michelle Obama with Melania Trump. Michelle is drawn with a chiseled, masculine physique, while Melania appears feminine and pageant-ready, sporting heavy makeup and white gloves.
The cartoon seems to suggest that America needs to restore a "traditionally feminine" first lady to the White House, apparently rejecting the energy, confidence and athleticism Michelle Obama is known for.
Some Twitter users identified other problems with the cartoon. User @nsuviolin2005 described a not-so-accidental looking bulge near Obama's crotch area, which they took to imply that she was concealing a penis:
The term "misogynoiristic" refers to a "specific misogyny that is aimed at black women and is uniquely detrimental to black women," according Feminista Jones in an October 2015 interview with The Guardian.
Others, like user @smoove___, took the muscular physique Obama was drawn with as a latent shade of racism:
The artist, Ben Garrison, is a political cartoonist who specializes in libertarian illustrations. His website, Grrrgraphics, claims that it was created in order to "express our outrage at the growing tyranny of Big Government."
Though Garrison told Breitbart in December 2015 that he doesn't officially endorse any political candidate, he said that he admired Trump's dedication to "shaking up the neocon-controlled Republican Party."
"He doesn't require a teleprompter to speak his mind and he doesn't give two shakes about 'political correctness.' That's refreshing. He's also fun to draw," he said.
Garrison seemed gleeful in response to potentially incensing liberals with his cartoon, mimicking Donald Trump's dismissive campaign rhetoric when responding to them on Twitter:
Read more: Elizabeth Warren Slams Donald Trump as Unqualified to Be President Over Trump University