Azealia Banks Pens Essay on White Supremacy, Zayn Malik and Skai Jackson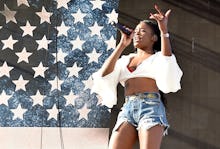 On Friday, Azealia Banks capped off an eventful week on social media with a reflection on her beef with Skai Jackson, her tweets to Zayn Malik and why she believes Twitter suspended her account. 
In the two-part essay, Banks wrote that she used racial slurs — like "sand nigger" and "curry-scented bitch" — when speaking to Malik, who is British Pakistani, to remind him that they are both people of color living under white supremacy. 
"Calling him racial slurs was my way of trying to angrily remind him that he is in fact not one of them, he is one of US. The white privileges he's so eager to take part in do not apply to him. He's colored, like me. His people suffer at the helm of white supremacy just like mine do." 
Banks penned the essay in response to the suspension of her Twitter account, which happened Thursday following beefs with Malik and 14-year-old actress Skai Jackson.
On Wednesday, Banks began a long night of controversial tweets by calling out former One Direction band member Zayn Malik for copying her look in his new "Like I Would" video.
On Friday, Banks teased fans, saying she was writing an essay called "Whiteness Is a Mental Illness" about the week's proceedings. In the teaser post, she asked fans to realize that it was only after she began to speak about whiteness, not when she was insulting people of color, that her account was suspended.
She teased the essay with these two images: 
Banks also made a larger point about white artists stealing from black culture, as well as what she called "cultural erasure." 
"Music industry politics which completely mimic racial social constructs allow people like Zayn to hide behind his popularity amongst white folk when he himself is aiding in the work of white supremacy," Banks wrote. "Cultural Erasure. Another instance of a 'white' artist taking credit for the black artists hard work and passion. And truthfully, it's pushing me over the fucking edge. White society grinds down the self esteem of black artists to the point where we are expected to be silent about such obvious transgressions." 
In December 2014, the rapper tackled similar issues during an appearance on hip-hop radio station Hot 97. Banks broke down in tears several times while talking about people stealing from black culture and artists like Iggy Azalea, who she said participate in a cultural "smudging" of black artists.