President Obama and Macklemore Just Released a PSA About America's Opioid Epidemic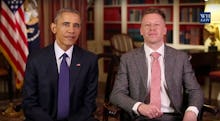 In his latest weekly YouTube address, President Obama joins hip-hop artist Macklemore to discuss the growing epidemic of opioid addiction in America. 
The president opens the video with a startling statistic: Deaths from opioid overdoses have tripled since 2000. 
"Addiction doesn't always start in some dark alley," Obama says in the video. "It often starts in a medicine cabinet."
He also points out that addiction-related deaths now outnumber deaths from traffic accidents in the United States, according to the Centers for Disease Control and Prevention.
In February, Macklemore released a song, titled "Kevin," featuring lyrics about a friend who died of an overdose in 2014. In the music video, Macklemore gets even more personal and shares details of his own struggle with addiction. 
"I abused prescription drugs, and I've battled addiction," the rapper says. "If I hadn't gotten the help that I needed when I needed it, I definitely would not be here today." Macklemore goes on to talk about the stigma surrounding opioid abuse, as well as the the need to speak up about addiction.
He adds, "I want to help others facing the same challenges that I did." 
Macklemore notes that addiction "doesn't discriminate" and that "it can happen to any of us." 
In the PSA, Obama outlines steps he's taken to reduce overdose-related deaths. The president says he is working to get law enforcement officers training to assure that people get into treatment rather than prison and that any Obamacare healthcare plan is required to cover addiction treatment. 
The White House released the video two days after the Obama administration called on Congress to approve $1.1 billion in new funding for opioid addiction treatment, a proposal he put forward in February.  
"Every day we lose more Americans to this devastating disease," Michael Botticelli, director of the Office of National Drug Control Policy, said in a statement. "And every day that passes without Congressional action on funding to support the treatment needs of those suffering from opioid use disorders is a missed opportunity to save lives."
America's opioid epidemic has grown steadily over time. As Obama mentions in the video, many cases of addiction begin with prescription painkillers, which led the FDA to send out new opioid prescribing guidelines to doctors.