These North Carolina Businesses Are Giving Brilliant Clapbacks to Governor Pat McCrory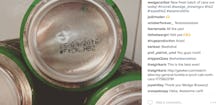 One company makes beer and the other makes sandwiches — but they both have a similar message for North Carolina Governor Pat McCrory: They're not fans of anti-transgender legislation like House Bill 2. 
There's been no shortage of transgender activists and cisgender allies willing to speak out against North Carolina's controversial HB2, which requires people to use the bathroom that matches their gender assigned at birth rather than their gender identity. Two local North Carolina businesses have joined the group of dissenters. 
Wedge Brewing Company, based in Asheville, revealed via its Instagram that they'd left a hidden message for those who flip their beer cans over to look at the can's silver bottom. 
"#F*CK HB2" is written on the bottom.
Twitter and Instagram users love the cans, with a few detractors here and there. 
We've reached out to Wedge Brewing Company for comment but have not yet received a response. This article will be updated with any further communication.
Common Market Deli in Charlotte also lampooned Gov. McCrory with several eponymous sandwiches, including: "Pat McCrory Is Erasing the Future of Our Children!" and "Pat McCrory Is a Weiner!" 
"We've done a [sandwich specials] making fun of Bernie Sanders, and we had a 'Shillary' one and we have plans to do something for Donald Trump," owner Blake Barnes told the Daily Dot. "It's funny that this one would be the one that causes all the fuss."
Barnes said he had someone call and force him to "say out loud that I love queers." 
To which he responded: "I love all of God's children — it's just their gods that I sometimes have trouble with."
Blake's deli reported on their Facebook page that protesters have begun picketing outside the restaurant. 
However, that won't stop Common Market Deli. "No amount of controversy is going to stop us," Barnes told the Daily Dot.