ISIS Has Declared a State of Emergency Amid Suspicions of an Imminent Attack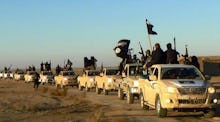 United States officials monitoring social media accounts and news reports say that the Islamic State appears to be scrambling to prepare itself against an impending attack in Raqqa, Syria.
Col. Steve Warren, the spokesman for an anti-ISIS coalition led by the U.S., told CNN reporters Friday that the terrorist group appeared to be anticipating a conflict in their self-declared capital.
"We have seen this declaration of emergency in Raqqa, whatever that means," he said. "We know this enemy feels threatened, as they should."
Warren also said that the group seemed to be responding to the encroaching Syrian Democratic Forces and Syrian Arab Coalition. 
As those groups secure their control of the territories surrounding Raqqa, media reports have indicated that ISIS militants have begun shuffling resources around the city, seemingly in an attempt to bolster their defenses in preparation for an attack.
"We've had reports of ISIL repositioning both their combat capabilities, I guess what they think may be coming next," Warren told CNN.
Though U.S. officials have not confirmed whether ISIS leader Abu Bakr al-Baghdadi is still in Raqqa, they are operating under the assumption that he is. 
One U.S. defense official told CNN that although Baghdadi remains "extremely careful" about revealing his whereabouts, the U.S. is continuing to monitor intelligence channels in an effort to track him down.
Read more: The U.N. Has Accused the Islamic State of Genocide. What Happens Now?