Man Who Yelled "This is America" While Attacking a Muslim Woman Pleads Guilty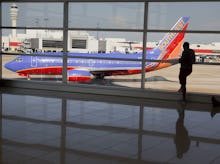 North Carolina man Gill Parker Payne plead guilty to a federal misdemeanor charge on March 13 after being accused of ripping a hijab off a Muslim woman's head on a Southwest Airlines flight in December, the Guardian reported.
While removing the scarf from the woman, identified only in court documents by the initials K.A., Payne allegedly yelled "Take it off! This is America!" According to the Guardian, Payne was charged with "using force or threat of force to obstruct a Muslim woman in the free exercise of her religious beliefs."
In a statement, Department of Justice civil rights division head Vanita Gupta touted the guilty plea as a victory for Muslims who fear discrimination.
"No matter one's faith, all Americans are entitled to peacefully exercise their religious beliefs free from discrimination and violence," Gupta wrote. "Using or threatening force against individuals because of their religion is an affront to the fundamental values of this nation."
Read more: Muslims, Sikhs and More Talk Safety Since FBI Started Tracking Hate Crimes Against Them
"This prosecution sends a clear message to anyone who contemplates the use of threats or intimidation to interfere with the right of individuals, including members of our Muslim community, to express their faith without fear," added U.S. Attorney, District of New Mexico Damon P. Martinez.
Payne may receive up to a year of prison time and a fine of $100,000, the Washington Post reported.
According to prior research by the Post, anti-Muslim hate crimes remain the only category of hate crime that has not declined in recent years. Rep. André Carson, one of two Muslims currently serving in Congress, said attacks on people of the Islamic faith have risen alongside the rhetoric of presumptive Republican presidential nominee Donald Trump last year. Following a massacre at a get together in San Bernardino, California — which resulted in 14 deaths, as well as the deaths of the shooters, Syed Farook and Tashfeen Malik — numerous Islamophobic incidents were reported throughout the country.
In April, an Iraqi man who was thrown off of a separate Southwest Airlines flight demanded the airline apologize. The airline refunded Khairuldeen Makhzoomi's ticket, but said the removal was conducted in compliance with company procedure.
"Since 9/11, we've seen a steady increase in anti-Muslim bias and dissemination of fear about Muslims in the United States. That trend has really spiked during this current electoral season," UC Berkeley associate professor of anthropology Charles Hirschkind told the Daily Californian. "Candidates have said things like 'Muslims should not be allowed to immigrate to this country' ... These kinds of statements really ramp up both the level of fear and also the level of bias and prejudice and racism that Muslims face."