Drake Might Have Been the Best 'Saturday Night Live Host' This Season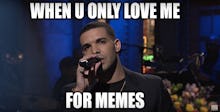 Fans knew Drake would nail his dual duties as host and musical guest on Saturday Night Live this week when he and Leslie Jones made the typically bland promo videos hysterical. The Views rapper not only did a fine job performing his critically successful new music — he aced each skit he starred in, returning to his Degrassi roots as an actor in a variety of roles. 
His monologue was self-deprecating and timely, ripping on a number of memes embodying the Canadian rapper from his "Hotline Bling" music video. He also fused his acting with comedic rap in a number of skits, including the kickoff monologue, making for a uniquely Drake show from the start.
Drake created several fire diss tracks for the SNL stars who wronged him in "Drake's Beef," a skit showing what truly happened behind-the-scenes of the rapper's hosting gig. 
In "Black Jeopardy," Drake was a black Canadian who the show's host (Kenan Thompson) had never seen before. Drake's character "Jared" was peculiar to say the least, providing for some hilarious interactions between the actors.
"American Ninja Warrior" featured a bald Drake , with a hilarious performance by Bobby Moynihan, who mocked the obstacle challenge TV show with a generic version of his own warrior who he dubs "Tornado Man," in the wake of a tragic tornado that ravaged his community. 
Drake performed in his own variety of admittedly bizarre skits, including one where he's chaperoning a school dance. His ability to make sometimes vanilla skits on the show turn into gold reminded fans he was an actor before a rapper, and is still able to do both in perfect unison. It was Drake at his best, celebrating his chart-topping new album, and easily one of the best nights of SNL's 41st season.
Read more: Drake Reveals Significance of 'Views' Title and the Number 6 on 'Jimmy Fallon'