Gisele Bündchen Talks Being Bullied for Her Looks, Says Hard Work Made Her a Supermodel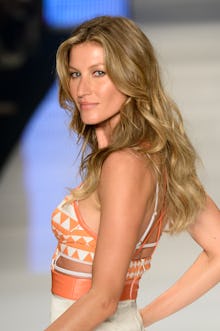 Eyes roll when pretty people complain about the hardship their appearances attract. Gisele Bündchen, for example: Any criticism she's deflected would seem to pale in comparison to the often vicious, almost always unwarranted bodily critiques hurled at those who haven't built a nearly $400 million fortune on the basis of looks largely agreed to be good. That doesn't mean the supermodel is immune to body shaming, though. 
As a child, Bündchen was far taller and skinnier than her peers, and was subject to turning "red like a pepper," she told the New York Times. She "stuck out" and for this reason — looking different from what was then a norm — she took a lot of shit.
"I thought bullying was just the way life is," Bündchen told the Times. The feeling of looking not-quite-right followed her into a modeling career, in which big designers were loath to hire a girl with eyes that were "too small," she said, a nose that was "too big." 
"The big nose is coming with a big personality," she said, and she built her reputation on being "the most energetic and hard-working" model around. She was still able to model, suggesting she wasn't working with too problematic a face in the first place. 
That face has become iconic and remains industry-ruling, which makes her assertion that "my career was never based on pretty" a little hard to swallow. It sounds very poor-little-rich-girl. But bullies love to seize on insecurities and those things that make one person look different from the next. Growing up thinking that being shamed was a fact of existence is sad, but there's an encouraging message to be drawn from it.
Everyone, even supermodels, catches flack for imperfect appearance, because perfect isn't a real thing. No perfect body or face exists, haters will always hate, but tuning out their nonsense and refusing to restructure one's nose can translate to myriad Vogue covers. Or maybe that's just Gisele. 
Read more: Kesha Has a Powerful Message for Body-Shaming Trolls: "Get Over It"