President Obama at Rutgers University Commencement Ceremony: "Ignorance Is Not a Virtue"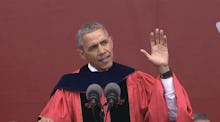 President Barack Obama addressed Rutgers University students and faculty during the school's 2016 commencement ceremony on Sunday with a speech that focused on the rise of anti-intellectualism in American politics. 
Though he was never mentioned by name, the specter of presumptive Republican presidential nominee Donald Trump loomed large throughout the president's remarks.
Obama urged the class of 2016 to be wary of hawkish immigration policies like those championed by Trump, insisting that working together with other nations was the only way to ensure that the United States can become stronger as a nation.
"To help ourselves, we've got to help others ... not pull up the drawbridge and try to keep the world out," he said.
He also addressed the rise of belligerence and the fall of logical reasoning in the discourse of the pundit class, saying that in politics, as in life, ignorance is not a virtue. 
"Building walls won't change that."
"It's not cool to not know what you're talking about. That's not 'keeping it real' or 'telling it like it is'. That's not 'challenging political correctness,'" he said. "That's just not knowing what you're talking about."
With globalization on the rise, he said, the world is more interconnected than ever before, and it's becoming more connected every day. 
"Building walls won't change that," he said. "... if the past two decades taught us anything, it is that the biggest challenge we face cannot be solved in isolation."
Obama also defended his own legacy, saying that the world is much better off now than it had been in the "golden years" of American politics that his opponents frequently wax nostalgic for.
"We're less dependent on foreign oil, we've doubled the production of clean energy, we've cut the high school dropout rate, we've cut the deficit by two thirds, marriage equality is the law of the land," he said.
Obama had choice words for the recent wave of liberals who call for "safe spaces" and "trigger warnings" on college campuses.
Referencing the University's boycott of former Secretary of State Condoleezza Rice, who was slated to deliver the 2014 commencement address, Obama asked students to engage their political rivals in debate when their views are challenged rather than silencing them.
"I don't think that's how democracy works best, when we're not even willing to listen to each other ... If you disagree with somebody, bring them in and ask them tough questions. Hold their feet to the fire, make them defend their positions," he said.
Read more: Why Obama's Last State of the Union Was Also a Campaign Speech