Donald Trump on Sen. Elizabeth Warren: "You Mean Pocahontas?"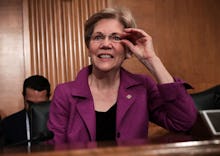 Presumptive Republican presidential nominee Donald Trump really isn't looking good in the New York Times of late. There's that story chronicling his misogynist track record from high school to present, yes, but there's also that op-ed in which he made a low and racially charged blow against Massachusetts Sen. Elizabeth Warren, who's been vocal about her vehement disdain for the candidate.
Maureen Dowd, who authored the editorial entitled "The Mogul and the Babe," wrote that she asked Trump if he'd attracted any criticism within the party for his war of Twitter words with the senator. 
"You mean Pocahontas?" was reportedly his reply. 
It's nothing new: When their Twitter feud first blossomed, Trump termed Warren "the Indian" in response to her labeling him a loser. He's referring to Warren's assertion of her Native American heritage, which he's deemed inconsequential. As he told Dowd in March, when she asked him about Warren's rebuke, "I think it's wonderful because the Indians can now partake in the future of the country. She's [Warren's] got about as much Indian blood as I have. Her whole life was based on a fraud." Trump has also nicknamed the senator "Goofy Elizabeth Warren," a label she finds laughable. 
Another day, another schoolyard bully-type jab from the man who is arguably the country's most prominent troll and possibly its future president. 
Read more: That Time Donald Trump Pretended to Be His Own Spokesperson to Trumpet His Romantic Life
h/t The Hill