Anthony Kiedis of the Red Hot Chili Peppers Hospitalized, Band Cancels Los Angeles Show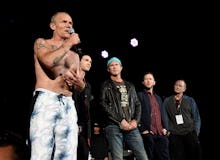 The Red Hot Chili Peppers were forced to tell a cheering crowd on Saturday night they wouldn't actually be playing any music after frontman Anthony Kiedis was taken to the hospital that night, according to the band. The rock group was one of a dozen set to perform at Irvine, California's KROQ radio program annual concert before delivering fans the news after the 53-year-old apparently had to leave the venue at the very last minute.
"We are devastated about it, we live to rock ... but unfortunately there's a medical thing that happened and he needed to deal with it," the band's bass player Flea told the confused crowd, CNN reported. "We're unable to play tonight, we will be playing for you very soon, and we will be playing for you like the feral animals full of love that we are. And we are so sorry."
"No one's more disappointed than us that we couldn't perform tonight," Red Hot Chili Peppers' drummer tweeted directly after the show. "Sending love and a speedy recovery to my brother Anthony." 
As news of the cancelled show began spreading, Red Hot Chili Peppers fans began sending their well wishes to Kiedis, however no update from the band's Twitter profile or their publicist have been made as of yet. 
According to CNN, the band is still set to play on Tuesday in Burbank, California.