John Oliver Calls Donald Trump's Bluff, Invites Publicist "John Miller" For an Interview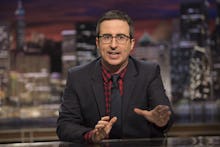 Even for Donald Trump's lofty standards, he had a pretty bizarre week in the media. This was accentuated by a report from the Washington Post that Trump had faked being his own publicist in the '90s, usually under the pseudonym John Miller. That was more than enough material for John Oliver on Sunday's Last Week Tonight, during which he tore into the Republican presidential nominee. 
As Oliver noted, John Miller had an innate ability to brag about himself, which was the first of many pieces of telling evidence that he might not be who he seems. Though, Miller didn't stop there; he made sure to praise Trump as well, including that pop star Madonna wanted to go out on a date with the real estate mogul. 
"Now, much like his candidacy, that claim is sad — but not implausible," Oliver says. "Remember, there were rumors that in the '90s Madonna got together with Vanilla Ice, Jose Canseco, and Willem Dafoe, and what is Donald Trump if not the authenticity of Vanilla Ice, the likability of Jose Canseco, and the terrifying facial expressions of Willem Dafoe?" 
What's more, Trump admitted in a 1991 interview with People that the Miller persona was one he came up with, and was a "joke gone awry." 
Trump has since denied that it was him, so Oliver had the perfect solution to the unnecessary drama. He invited Miller to sit down for an interview on the show — and he emphasized that he wanted to talk to Miller, and was not extending an invitation to Trump. As a show of good faith, Oliver set up the interview table with items Miller would like, featuring an overcooked Trump-brand steak, pornographic magazines and a hand mirror. 
"It's an open invitation," Oliver concluded. "So please come on by, John Miller, there's literally nothing stopping you other than the fact you obviously don't exist." 
You can check out the segment below. 
Read more: John Oliver Takes on Philippine Mayor Rodrigo Duterte, the "Trump of the East"