April Is the Seventh Consecutive Month to Break Global Temperature Records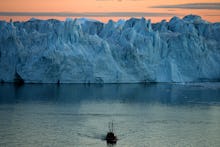 It may have been nice when, in November, you still hadn't put your summer clothes away. And maybe it was a fun novelty when, in December, you went to pick out your Christmas tree in shorts. But last year's unseasonably warm weather became an unequivocal concern when NASA ruled 2015 the hottest year in recorded history. 
More concerning is that, so far, 2016 has been following suit. According to the Guardian, NASA scientists found that April became the seventh consecutive month for record-breaking temperatures, and the third consecutive month to break that record by the highest margin ever, beating it out by 0.24 degrees Celcius. 
Read more: Global Warming Update: March Just Shattered 2 Temperature Records And It's Bad News
Climate scientist Gavin Schmidt said given these new findings, 2016 is already more than 99% likely to top 2015's record:
Back in December, John Homenuk, forecaster and founder of New York Metro Weather told Mic that the unusually high temperatures had "almost everything to do with El Niño and the stratospheric vortex," two normal features of the earth's weather system. But with El Niño not breaking any of its own records, experts say it's obvious that global warming is the primary agent of the dramatic temperature spikes.
"The interesting thing is the scale at which we're breaking records," Andy Pitman, atmospheric scientist at University of New South Wales in Australia, told the Guardian. "It's clearly all heading in the wrong direction."