This Tiny Breathalyzer Can Detect Early Signs of Lung Cancer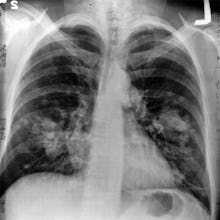 A new breathalyzer the size of a postage stamp could one day save your lungs and your life.
Astraeus Technologies, a group of students from MIT and Harvard University, built what they're calling the L CARD (short for Chemically Actuated Resonate Device): a tiny smartphone-connected device that detects gases associated with lung cancer. If you have those gases in your breath, when you blow on the L CARD, it triggers a connected app and makes your phone screen light up red. If those gases are nowhere to be found, the screen goes green.
The app also notifies your doctor — so make sure you've got your medical and physician information filled out.
According to Jay Kumar, a student at Harvard Medical School and one of the Astraeus guys, the CARD is 10 times more accurate than CT scans — and can be made for less than a buck.
CT scans, on the other hand, can cost about $800 and expose patients to radiation. The cost is the most important part: With such an expensive test, not everyone can afford a CT scan to detect lung cancer.
The L CARD could change that.
And thanks to winning MIT's 27th annual Entrepreneurship Competition, it could happen sooner than later: Astraeus recently took home $100,000, the Robert P. Goldberg Grand prize, for the L CARD. The team said the money will go toward developing the device, then selling the device directly to hospitals for annual checkups.
"We're going after lung cancer," Kumar said, according to MIT News. "The root cause is bad screening. We've developed a better screening test, and it's cost effective."
h/t MIT News