This Emmys season, here's who we don't want to see win — and who we do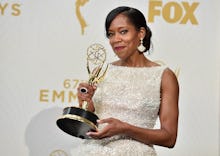 The Emmy eligibility period is winding down — after this month, no more shows will be able to compete during this fall's top TV awards. Voting on the nominations starts June 13 — which means now is the time for Emmy voters to be watching as much TV as they can.
Aside from a moment or two of brilliance, the Emmys are one of the more staid awards bodies. They know what they like (Bryan Cranston, Julia Louis-Dreyfus, Game of Thrones) and will rarely go out of their way to learn about new programs. Rule changes in 2015 attempted to address this, but only succeeded in shaking up the awards slightly.
Read more: 'Transparent' Is Having Its Moment at the 2015 Emmys — and Deserves It
To help get the Emmy voters thinking creatively again, here are some suggestions of who should be nominated and win in nine categories. These aren't the usual kind of winners. But they represent the best and brightest on TV right now, and they'd make a stellar set of honorees come fall.
Supporting actress in a drama series
Instead of: Joanne Froggatt, Downton Abbey
Froggatt has earned three nominations for playing Lady Mary's maid Anna on Downton Abbey. She's certainly solid amid a crowded ensemble, but Downton Abbey isn't really synonymous with "outstanding" anymore. Regina King, on the other hand, is very much so, and is great on two separate shows: American Crime and The Leftovers.
The latter is the show eligible in this category, and though it's possible she'll earn nominations for both (she won for American Crime last season), The Leftovers is the program she should win for this year. As Erika, King was a key part of HBO's after-the-rapture drama becoming one of the best shows on TV. She deserves the praise.
Lead actor in a comedy series
Instead of: Jeffrey Tambor, Transparent
The Golden Globes went for Bernal this year in a display of their forward-thinking. The Emmys can and should follow suit. While Jeffrey Tambor would be a worthy winner for Transparent, he took home gold last year, and most of Transparent's second season felt like a drama.
Bernal, meanwhile, got to flex all manner of creative muscle in Mozart's second season. As star conductor Rodrigo, he switched from enthusiastically leading his adult musicians to inspiring kids in his home country. It's a light show, but a performance that feels beautifully sketched. It's worthy of recognition.
Reality competition program
Instead of: The Amazing Race
Emmy's favorite race around the globe, The Amazing Race, has won the outstanding reality competition trophy 10 times. The only three other times the award was given out, it went to The Voice twice and Top Chef once. Time to award a different race — Drag Race, that is.
Logo's competition to find America's next drag superstar is as entertaining as it is impressive given its non-network budget, and has been worthy of a nomination for each of its past seven seasons. Season eight, concluding Monday, has been one of the strongest yet. If there's any year for RuPaul's Drag Race to take the crown, it's this one.
Lead actor in a limited series or TV movie
Instead of: Bryan Cranston, All the Way
We haven't yet seen All the Way, though it's the same performance for which Cranston won his Tony. It'll surely be great. You know who else is great and doesn't have four Emmys already? Courtney B. Vance!
As O.J. Simpson attorney Johnnie Cochran in American Crime Story, Vance was deliciously villainous without ever losing hold of his character's humanity. He deserves an Emmy just for the way he said "Simi Valley." He chewed over the words, practically twirling his mustache in delight. Cranston has enough Emmys for his career; this is Vance's time.
Comedy series
Instead of: Modern Family
After years of taking the top comedy prize home, Modern Family finally lost to Veep — a deserving winner! — last season. This season, the Emmys might be tempted to return to the well, but they should look elsewhere in ABC's sitcom lineup to find the truly worthy winner: Black-ish.
There have been lots of stellar comedies lately, particularly on Netflix, but there's something special about Black-ish. This is a show that successfully and powerfully incorporated #BlackLivesMatter into a February episode. Creator Kenya Barris has crafted one of the most assured comedies on TV — this year feels like the chance to recognize it.
Lead actor in a drama series
Instead of: Kevin Spacey, House of Cards
Kevin Spacey, who plays president and professional Foghorn Leghorn impressionist Frank Underwood on House of Cards, hasn't actually won an Emmy for the show, though he's been nominated three years in a row. Since he's a lock for a fourth nod, there may be some inclination that this is finally his time.
It shouldn't be, though — not with Rami Malek as a possibility. As Elliot, the protagonist of Mr. Robot, Malek brings a spirit and energy to his role that his competitors don't. He's significantly younger than most winners in this category (the average of every winner of the 2010s is just under 50 years old). At 35, Malek would be a different kind of winner — and a great one.
Supporting actor in a limited series
Instead of: Alfred Molina, Show Me a Hero
Take everything we said from "lead actor" about age and replicate it here. Molina is good in David Simon's Show Me a Hero, and he's exactly the kind of actor shows like the Emmys gravitate toward. Connor Jessup, the young star of American Crime's second season, isn't. But the his performance wasn't just good; it was revolutionary. He's the rightful winner this year.
Supporting actor in a comedy series
Instead of: Tony Hale, Veep
Tony Hale has won this award twice in the last three years, beating out Tituss Burgess last year. It's time for Unbreakable Kimmy Schmidt's breakout star to have his moment. He's magnificent on the Netflix comedy, funny and fabulous in equal measure. Burgess has earned this, perhaps more than any other one of our suggestions.
Lead actress in a comedy series
Instead of: Julia Louis-Dreyfus, Veep
Oh boy. With all compliments to Julia Louis-Dreyfus, who is fantastic on Veep, she's won four years in a row. She's set. We can spread the wealth a bit — and that goes for the nominations, too. Last year, the television academy avoided the holy trinity of nonwhite actresses leading comedies: Gina Rodriguez on Jane the Virgin, Constance Wu on Fresh Off the Boat and Tracee Ellis Ross on Black-ish. Instead, they came up with an all-white lineup. That won't fly this year.
Any of these women would be worthy winners. Rodriguez is effortlessly charming on Jane the Virgin, taking one of TV's densest shows and making it delightful. Wu is the singular reason to watch Fresh Off the Boat. Ross shined in the aforementioned #BlackLivesMatter episode of Black-ish. The time has come for one of them to take the crown — and for all to receive nominations. Hopefully, this will be the year.