Italian Politician Makes Islamophobic Terrorist Joke About London Mayor Sadiq Khan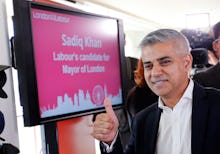 During a standup routine in Padua, Italy, on Saturday, one of the country's most famous politicians, Beppe Grillo, made a poorly-received joke about the newly-elected Muslim London mayor, Sadiq Khan, suggesting the mayor is a suicide bomber. 
"Now I want to see when he blows himself up in front of Westminster [government buildings]," Grillo said.  
The Italian politician, leader of a major populist opposition party, the Five Star Movement, or M5S, also described Khan as "Bangladeshi" — the London mayor has Pakistani ethnic origins. 
One of the main problems with these comments, many political commentators contend, is the potential damage it could do to Virginia Raggi, an M5S candidate currently leading the polls in the race for mayor of Rome, the elections for which will be held on June 5 and 6. If Raggi were to win, it would be the most high-profile political office held by the party. 
As of now, M5S has a stronghold in the Italian political landscape, closely trailing the ruling Democratic Party. But comments such as these may well loosen their position. 
Raggi's opposition, Democratic Party mayoral candidate Roberto Giachetti, used Twitter to condemn Grillo's Islamophobic comments, quoting the joke and stating, "Didn't make me laugh."
The twitterati echoed Giachetti's sentiment with a flurry of outraged tweets. 
If nothing else, for the sake of protecting his party, it might be time for Grillo hang up his comedian hat.
Read more: Boy, Bye: London's First Muslim Mayor Responds to Trump Saying He'd Let Him in the Country