British Tabloid Says Beyoncé's Ivy Park Made in Sweatshops — And the World Is Flipping Out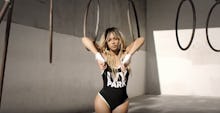 More backlash against Beyoncé's Ivy Park is brewing.
On Sunday, British tabloid the Sun published a report alleging that the singer's new line of athletic apparel is made in Sri Lankan sweatshops that pay women workers around $6.19 a day. The brand, available at Topshop, Nordstrom, Hudson's Bay and Zalando in North America, was designed to "empower women through sport." If the Sun's conversations with sweatshop workers are legitimate, Ivy Park may be the product of something approaching slave labor.  
"When they talk about women and empowerment this is just for the foreigners," a seamstress told the Sun. "They want the foreigners to think everything is OK."
Read more: Beyoncé's Ivy Park Leotards Could Hurt Your Vagina
Another laborer told the Sun that her days are a continuous work-sleep cycle for which she is paid just under $126 per month. Along with her younger sister, she pays about a fifth of that money to rent a 10x10-ft. space in a 100-room boarding house nearby. 
The sweatshop is part of MAS Holdings, a Sri Lankan clothing manufacturer that, according to the Sun, employs 74,000 laborers — over 50,000 of which are women — across 48 Asian factories. 
Beyoncé, meanwhile, has amassed a fortune of hundreds of millions of dollars, and will stand to profit off her pricey athletics line. 
"Ivy Park has a rigorous ethical trading program," a Topshop spokesperson said in a statement responding to the Sun's allegations, according to Women's Wear Daily. "We expect our suppliers to meet our code of conduct and we support them in achieving these requirements." According to WWD, the brand pays manufacturing workers twice the Sri Lankan minimum wage. 
While the claims have yet to be substantiated by a second media outlet, social media was quick to light up with outrage over the allegations.
"I fuck with Beyonce but the news that her #ivypark range, meant to 'empower women through sport,' is made in Sri Lankan sweatshops by women being paid $8.50 a day is making me question the veracity of anything, especially epithets about feminism, that comes out of the Beyonce machine," wrote journalist Kat George in an Instagram post. 
"If you want to talk about Becky with the good hair, let's make her a symbol of all the women Beyonce has had to exploit in order to build her feminist empire. She should be a reminder of the terrible greed that motivates Beyonce's brand of feminism, where the 'best revenge is your paper,' which might as well be 'money over bitches.' When life gives you lemons, squander the opportunity to create a better community, make money instead."
Plenty of others put themselves in the line of Beyhive fire on Twitter, voicing their concerns about the reports.
Whether or not the allegations are rooted in fact remains to be seen. While the Sun's account has been picked up by legitimate news sources, it's worth noting that the tabloid has been wrong before, perhaps most notably in publishing unsubstantiated reports that soccer fans were looting the bodies of those crushed in 1989's post-game stampede at Hillsborough in Sheffield, England. 
Mic reached out to Ivy Park and Nordstrom, one of the brand's retailers, for comment, but has yet to hear back.