Ben & Jerry's Unleashes New Version of Half Baked, But We're Not Mad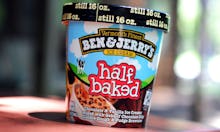 Even ice cream flavors need makeovers sometimes. 
This month, Ben & Jerry's announced the forthcoming release of limited time updates to three fan-favorite flavors. 
Numero uno is a revamp of Half Baked, the company's most popular flavor and a beloved mix for anyone who simply can't choose between cookies and brownies. 
Dubbed "Totally Baked," the new ice cream will feature, well, fully baked cookies, instead of the original flavor's signature cookie dough gobs. And while Half Baked has cookie dough vanilla ice cream mixed with brownie-studded chocolate ice cream, Totally Baked flips it and reverses it with brownie-studded vanilla ice cream and cookie-studded chocolate ice cream.
Sacrilegious or genius?
You won't have to commit to an answer. Whether your taste buds feel slighted or delighted, rest assured that you'll still be able to purchase Half Baked while Totally Baked is being served up in scoop shops. (Sadly, this newfangled flavor won't be available at the grocery store.) 
"We wanted to mix things up a bit," Flavor Guru Eric Fredette said in a statement. "This was a simple but fun way to create a new flavor by using the same euphoric flavor profiles our fans have grown to love."
Which other two flavors will get a new look?  This mysterious jingle on the Ben & Jerry's page gives a hint on what to expect for the second flavor flip:
Any guesses? So long as Ben & Jerry's doesn't take our favorite pints away from us, we'll eagerly await the next big reveal. 
Correction: May 16, 2016