Lightning Strikes in Bangladesh Kill Over 60 People as Tropical Storms Persist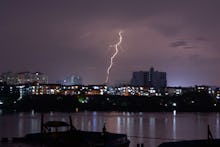 Over the last four days, dangerous tropical storms in Bangladesh have killed 65 people by lightning strike, according to CNN. Thursday had the most deaths from lightning strikes, at 34. Friday saw 21 deaths by lightning, followed by 10 over the weekend.
Bangladesh is in the middle of its severe storm season, which runs from March to June. Lightning strikes are not uncommon in the low-lying country, especially in light of deforestation and the increased use of metal devices like cell phones, according to ABC News. 
"We are discussing with our meteorological experts on why the deaths are higher this year," Reaz Ahmed, the director general of the country's Department of Disaster Management, told CNN.
Most of the victims were farmers or construction workers from the rural northern and central regions. For reparations, the government will give $253 to families whose loved ones have died and $126 to the families of those injured. 
The government is also working on rolling out a public campaign that will help teach people to protect themselves against lightning. However, there's no official government agency that specifically tracks injuries and deaths from lightning. 
Typically, 300 Bangladeshis are killed each year by lightning, according to NBC News. But in the United States, there's an average of 49 lightning-related deaths. 
There's a 10% chance of dying if struck by lightning, and a 90% chance of receiving some sort of disability, according to the National Weather Service.
Scientifically, someone has a 1 in 12,000 chance of getting struck by lightning in their lifetime.
Read more: Bangladesh Is One of the Worst Countries for Child Marriage — for One Horrible Reason