How Granny Panties Became Fashion's Latest (and Greatest) Accessory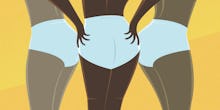 There once was a time when thongs had it all. They were on runways. They were on red carpets. They were seen peaking out of jeans and denim skirts. Musical masterpieces were written in their honor. As they grew to mainstream popularity in the '90s, butt cheeks across America were expected to be exposed and vulnerable. But now, it seems, that time has come to an end. 
On those same runways and red carpet events for which thongs were born (no VPL!), granny panties now reign supreme. 
If you've taken a look at any high-fashion runway or red carpet event as of late, you've probably seen a young woman in a gown with a color-coordinated pair of full-coverage underwear underneath. More specifically, bright pink and satin, peeking from underneath a waterfall of fabric on Taylor Swift at the Grammys.
Or solid black and visible through one of Kendall Jenner's most daring outfits to date at the Cannes Film Festival.
To some, they're called "full bloomers," or an even more darling "big knickers." To others, they are "granny panties," or the kind that Bridget Jones proudly ditched. To many more, they simply look like underwear at its most modest, extending from above the bellybutton to fully cover the backside. They offer support, they offer discreetness, they are the antithesis of Rihanna's beige thong, which she wore underneath her sheer and bedazzled gown to the Council of Fashion Designers of America's 2014 CFDA Fashion Awards — and the high fashion world as of late loves them. 
For quite a while now, large panties have gone in and out of fashion, with women throughout the 18th and 19th and most of the mid-20th centuries favoring full bloomers over anything else. On TV shows and in films, however, it's been the fashion girl's most unexpected laid-back accessory. Think Rizzo at the sleepover in Grease or even Sex and the City's Carrie Bradshaw. Whether while lounging around with girlfriends or participating in synchronized tooth brushing with your boyfriend, it has been engrained in our minds as a fashion girl's go-to for whenever they wanna chill. Full-coverage panties are our version of the white briefs Tom Cruise wears under that dress shirt, while sliding along a floor in Risky Business.
So while at first they were strictly for women at their most relaxed and undressed, now, they are for women at their most done-up.
A few months before the notable appearance of Swift's hot pink panties (which looked more like a diaper to some), the look was seen on women like Miley Cyrus, who frequently wore them onstage. But with Swift, the gigantic underpants veered from provocative stage wear to legitimate runway and red carpet attire. Rather than using them to cause a commotion, the panties were seen as a more practical solution to what you can wear under a gown with a high slit.
Full-coverage panties are our version of the white briefs Tom Cruise wears under that dress shirt, while sliding along a floor in Risky Business.
The trend  just happens to come at a most opportune time, as more women are actually opting for full coverage underwear, as opposed to a thong. In a recent survey from the retailer John Lewis, it was revealed that more women have been buying up big underwear. 
"We finally fell out of love with smalls in favor of big, comfy pants," the company stated, according to Vogue U.K. "No longer associated with Bridget Jones, the big pant is now beautiful." 
The reason women have started opting for underwear that actually covers their butt could be anything, but probably boils down to two things: 1. They're mad cute and 2. They're mad comfy. 
It's women erasing the idea that in order to be sexy and alluring, you have to bare your bum. It's much more about the shape than, say, the skin. 
In any case, high fashion designers of late love them too, but for more practical reasons. Like, for instance, the fact that not everyone is Rihanna (despite our prayers) and cannot pull off a sheer item of clothing with a thong underneath. The large panty is just a more discreet option, which can be sold to the masses far easier.
What this trend is also profiting from is that a body-hugging dress silhouette has become exceedingly popular, with apparently everyone who's anyone slipping into a little sheer number on the runway or red carpet. A large panty looks good and modern underneath a layer of glitter and sheen.
What it will eventually mean for us is that this look, of a large brief underneath a sheer dress or skirt, will one day be available for sale at a place like TopShop or H&M. Runways offer inspiration to retailers, so in less than a year's time, we could all very well be figuring out what size we are in underwear that rides high above the hips and bellybutton. 
This might be one of those rare instances in which an item not originally seen as fashionable is finally getting it's due. It's not like, say, crop tops or high-waisted pants, which were always seen as fashionable. This is more the equivalent of something like dental headgear becoming cool.
What's also particularly meaningful about this trend is that large panties can work on a variety of body types. It really may be one of the only instances in which a runway trend can trickle down and work for all women.
Although women have been wearing underwear like this for decades, now is its time to shine.