CBS Passed on 'Nancy Drew' for the Most Sexist Reason Possible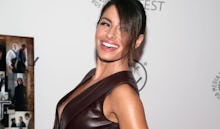 So much for a modern, non-white take on the classic Nancy Drew book series on CBS.
The broadcasting giant is reportedly passing on an opportunity to host the series, titled Drew, after further consideration this past weekend.
Why?
Because it "skewed too female" for the network's schedule, according to Deadline.
Reactions to the controversial news circulated social media over the weekend. Many essentially called the decision a blatantly sexist reason to cancel a TV show and commented on how it reflects on the male-driven state of the industry.
"How can something be 'too female?' like full offense but there is not enough women onscreen," Tumblr user hedaalexxa wrote in a post. "I want a show, hell a network, run solely by women; that is about women, just for women. Show me more woc, w'w, older women, hell just women in general! Give me more women."
"Does cancelling a show for being 'too female' mean that we can also cancel 90% of TV 'cause 'too male' or nah?" User pepitamia wrote.
Others sounded off on Twitter:
And the winning reaction is...
Drew is set to star Iranian-Spanish actress Sarah Shahi as a 30-year-old Nancy Drew working as an NYPD detective in Manhattan. 
The network was deciding between Drew and Doubt, according to Deadline — both by Grey's Anatomy alums Tony Phelan and Joan Rater — and went with the latter. The show is now being shopped to other outlets by CBS TV Studios.
The silver lining? Doubt will enter unchartered territory for trans people. 
Described as a "legal drama," the show's regular cast includes trans activist Laverne Cox and thus will be the first broadcast series to feature a regularly recurring transgender character.