Tesla Responds to Imported Worker Scandal: We Aren't Legally Responsible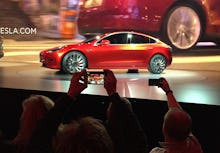 Tesla illegally imported workers from Eastern Europe to help build its new paint shop in its Fremont, California, plant, according to new reports from the Mercury News. These employees allegedly worked long hours of manual labor for less than the minimum wage. 
The electric vehicle manufacturer reportedly paid these foreign workers about $5 per hour — compared to the $52 per hour their American colleagues received for doing similar work.
Tesla's dark secret came to light following a serious injury sustained by one of the plant's workers, Gregory Lesnik. Lesnik is an electrician from Slovenia whose workplace injury sparked a lawsuit that dug into the factory's practices.
According to some of the 140 workers brought in from Eastern Europe, they were flown in "for months at a time" and were housed in "nondescript apartments" and shuttled to Tesla's Fremont plant six to seven days a week, the Mercury News reported.
If Tesla was employing upwards of 140 foreign workers with "suspect visa papers" in its Fremont plant, it was happening right under Elon Musk's nose — the Tesla founder's desk is situated at the end of the production line at the factory, BGR reported. 
Tesla's take: The company just released a statement regarding the issue.
In response to Lesnik's story, Tesla said in a statement, "We are taking action to address this individual's situation and to put in place additional oversight to ensure that our workplace rules are followed even by sub-subcontractors to prevent such a thing from happening again."
Tesla said that ISM Vuzem — the firm it hired to construct the Fremont, California, paint shop — was responsible for hiring Lesnik. 
"Assuming the article is correct, we need to do right by Mr. Lesnik and his colleagues from Vuzem," the statement reads. "This is not a legal issue, it is a moral issue. As far as the law goes, Tesla did everything correctly. We hired a contractor to do a turnkey project at our factory and, as we always do in these situations, contractually obligated our contractor to comply with all laws in bringing in the resources they felt were needed to do the job."
The statement goes on to say that if the $5 an hour wage reported in the Mercury News article is true, it is "totally unacceptable." 
While Tesla does not take legal responsibility in the statement, citing its actions as legally sound, it does say that it will "give Mr. Lesnik the benefit of the doubt" and that it will take care of him. "We will make sure this happens." 
You can read Tesla's full response to the allegations here.
Elon Musk has since tweeted out a response to the claim The Mercury News made that foreign workers in the Fremont plant were making $5 an hour compared to their American counterparts who were making $52 an hour. The tweet included an email from Eisenmann, the firm Tesla hired to construct the paint shop. 
Eisenmann President Mark West said in an email to Deputy General Counsel at Tesla Jonathan Butler that Eisenmann agreed to an hourly rate of $55 an hour with ISM Vuzem, the sub-contractor brought in by Eisenmann. 
"The allegation that Eisenmann supported ISM Vuzem in its application of visas for the Tesla project is not correct," Butler wrote in the email, according to Musk's tweet. "In fact, Mr. Lesnik had obtained a working visa in conjunction with an application for a former Eisenmann project." 
Musk furthers the point in a tweet that The Mercury News report of a $5 an hour rage is "false." 
"Our priority is swift and true justice," a Tesla spokesperson said in an email. "We're currently working with Eisenmann and Vuzem to investigate exactly what happened so that we can quickly identify a resolution, and put in place rules to ensure that our contractors and their sub-contractors always treat their workers fairly and in a compliant way. We have also reached out to Mr. Lesnik's attorney to ensure Mr. Lesnik is properly taken care of and expect to announce a solution shortly."
Silicon Valley's immigrant workers: This type of visa abuse isn't rare in Silicon Valley, where there's a particularly colossal demand for visas for foreign workers. Around 75% of Silicon Valley workers were born outside the U.S., compared to 45% among the total working population, according to My Budget 360. In tech, foreign workers often earn significantly less then their American counterparts.
This technique of employing foreign workers for cheap work — which San Francisco Weekly says is creating a caste system — is rippling throughout Silicon Valley. 
"We have concluded that there is widespread abuse of the B1 visa in the Bay Area," Michael Eastwood, assistant district director of the San Jose office of the U.S. Department of Labor, told the Mercury News. 
May 18, 2016, 3:10 p.m.: This story has been updated with information found in tweets posted by Elon Musk in response to the claims.