Powerful Supercut Shows Why LGBTQ TV and Movie Fans Deserve Better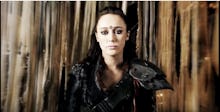 Amid a year of television in which LGBTQ characters have been killed off in several series, fans and critics alike have had enough of the senseless deaths. They deserve better. That was the motivation for YouTuber fearlessummer, who compiled together the many tragic deaths of gay characters on TV and film — not only from this year, but from several years of the repeated trope. 
The video was prompted by the controversial death of Lexa, a lesbian character played by Alycia Debnam-Carey, in the CW's The 100, according to the YouTube video's description. Lexa begins the montage, but it includes several characters from other series and films, including Tara (Amber Benson) in Buffy the Vampire Slayer, Tricia (Madeline Brewer) in Orange Is the New Black and Laurel Hester (Julianne Moore) in Freeheld. Along with the many gay characters, the video features voiceover from fellow Youtuber Moog Ferlita, who expressed their own disappointment in Lexa's death. 
While it is an indicting and oft-repeated issue, the good news is some people in the industry are listening. In April, several TV writers and producers signed the "Lexa Pledge," which includes seven principles they pledge to adhere to with regard to LGBTQ characters on TV. Most importantly, that included promising not to kill off gay characters simply to further the plot of a straight one. 
Still, while the "Lexa Pledge" is a good start, TV series and films are going to have to demonstrate these tenants in action before we can formally label any progress ma. If not, such heart-wrenching montages could be all the more frequent — and rightfully so. 
You can watch the supercut in full below: 
Read more: TV Writers Address Senseless LGBTQ Character Deaths With a Pledge to Do Better