Actor Wendell Pierce Charged After Reportedly Attacking a Bernie Sanders Supporter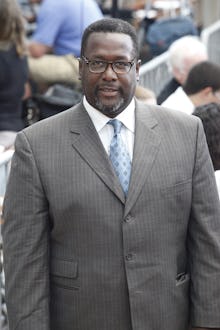 Actor Wendell Pierce, who appeared on HBO's The Wire and more recently in the TV movie Confirmation, was arrested and charged with simple battery in Atlanta on Saturday, the Chicago Tribune reported. Pierce was charged for allegedly assaulting a Bernie Sanders supporter, TMZ reported.
The incident, which happened in a hotel bar, was reportedly spurred by a heated discussion about the 2016 election. Pierce, who has been vocal about his support for Democratic frontrunner Hillary Clinton, allegedly "got upset" when a patron, who was in the bar with her boyfriend, "declared her support for Bernie," according to TMZ. 
Pierce reportedly "pushed the boyfriend and then went after his girlfriend ... grabbing her hair and smacking her in the head." The incident reportedly took place around 3:30 in the morning.
Pierce was released on a $1,000 bond the same day, according to the Tribune. A statement from the Atlanta police read, "The incident did not rise to anything significant so no special notification was made," reported local NBC affiliate WDSU. "It was treated like any other arrest a patrol officer conducts. Mr. Pierce made no indication he was famous nor did the officer inquire."
Pierce hasn't been shy about using his social media accounts to share views about the election, especially his critiques of presumptive Republican nominee Donald Trump — Pierce has even cited "violence" as a reason not to vote for Trump.
Read more: This "Bernie Sanders Glowsticks" Meme Was Made by Someone Who Wants to Kill You
Correction: May 16, 2016