Sinead O'Connor Reported Missing in Chicago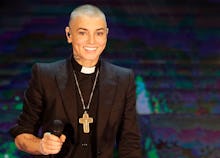 Police in a Chicago suburb are looking for Sinead O'Conor, the Irish singer-songwriter popular in the 1990s, who has reportedly been missing since Sunday morning, the Associated Press reported. 
Following a phoned-in tip from a concerned caller, the Wilmette police department issued a "check for well-being" Monday morning. According to the report, O'Conor was last spotted when she went out for a bike ride around 6 a.m. on May 15 and hasn't been seen since. 
The singer has long dealt with mental health issues, posting about an alleged suicide attempt on Facebook in November in which she claimed she'd "taken an overdose" in an unnamed Irish hotel, following a "horrifying set of betrayals." 
O'Conor was subsequently hospitalized and her Facebook temporarily deactivated — a few days after writing the now-deleted post, she came back to the platform to announce that the government was mandating her separation from her 11-year-old son, Shane, and she's currently embroiled in a custody battle with her ex Donal Lunny. 
While O'Connor hasn't been seen since she left on her early morning bike ride, she hasn't been silent: the singer left a message on her Facebook page, apparently for her oldest son, Jake Reynolds, at 9:12 a.m. Sunday morning. In it, she told Reynolds to "go to court on Tuesday and take custody of your brother from Tusla" and accused him and Lunny of engineering the separation. 
O'Connor is also in legal trouble with Arsenio Hall, whom she accused via Facebook of having provided Prince with drugs (Prince wrote O'Conor's hit single "Nothing Compares 2 U") and has now brought a defamation suit against her. 
May 16, 2016 3:29 p.m.: According to the Wilmette Police Department, O'Connor has been found safe, Rolling Stone reported.