Kehlani Makes Brave Statement on Mental Health, Suicide Despite Trolls' Ongoing Attacks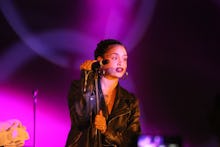 Kehlani is back on the music circuit following a brief stint in the hospital following an apparent suicide attempt allegedly caused by online controversy surrounding her romantic relationships. And despite continued attacks from trolls, both online and at her performances, the contemporary R&B singer is taking a stand for those inflicted by mental health disorders and other issues taking away from their happiness.
"It wasn't a first-time thing, and that's not okay," Kehlani said at a recent concert, addressing her time spent in the hospital after the internet attacked her because of her relationship with NBA player Kyrie Irving and rapper PartyNextDoor. But she made it clear her embattled state isn't an experience only celebrities endure, saying, "It's something that so many young people are dealing with, and so many people just slip under the rug to things like depression, and severe anxiety and many disorders that people know nothing about."
Meanwhile, trolls haven't softened their attacks on the 21-year-old — in fact, they've sharpened their knives, chanting the names of the men involved in her supposed love triangle during one of her recent shows. 
Kehlani, however, seems to be moving forward from the vitriol she's received and she encourages her fans to do the same:
"From me to you, you are worth it. You are perfect; you need to be here every single day; you are meant to be here. Get up every day and know that and tell yourself that every day."
The singer also revealed she'd be working closely with organizations like the National Suicide Hotline to advocate for young people around the world who might be contemplating suicide or experiencing a mental health crisis. 
Read more: Halsey Deactivates Twitter Account After Trolls Attack Her for Supporting Kehlani