Shark Bites 23-Year-Old Woman Off Florida Beach and Refuses to Let Go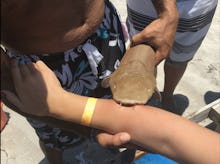 On Sunday, a Florida beachgoer got more than she bargained for when a nurse shark swimming near her sank its teeth into her arm and refused to let go.
The 23-year-old woman was swimming off the waters of Boca Raton, Florida, when the incident occurred. According to witnesses she had been irritating the baby nurse shark in the moments before she was bitten, CNN and others reported.  
Another beachgoer killed the shark shortly after it latched on to the woman's arm. However, it maintained its grip until she was taken to a hospital, where the dead shark was removed.
The small shark, about 2 feet in length, didn't cause much damage to the woman. Though nurse sharks' teeth can be ferociously sharp and their jaws (clearly) powerful enough to clasp on to anything, they are rarely large enough to break the skin, the Telegraph reported.
Read more: This Dolphin Died After People on an Argentine Beach Passed it Around to Take Selfies