These Tourists Accidentally Got a Baby Bison Killed at Yellowstone National Park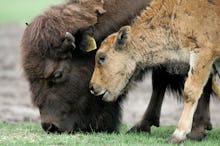 Tourists visiting Yellowstone National Park in the second week of May apparently thought they were being kind when they pulled a baby bison into the trunk of their SUV — but they were actually condemning it to death. Yup, that's right, we said it.
The tourists said they put the newborn bison calf in their car and brought it to park rangers last week because they were concerned it was "too cold," reported the East Idaho News. A photo of the baby bison in the back of the SUV went viral over the weekend, inspiring outrage across the internet.
When park officials tried to reintroduce the baby bison to its herd, the other bison apparently rejected it, and refused to let it back into the herd, "despite rangers' repeated attempts to reunite it with its family," reported KUTV. The officials had to euthanize the now-abandoned calf. 
"It was abandoned and causing a dangerous situation by continually approaching people and cars along the roadway," Yellowstone officials said in a statement, reported KUTV.
The National Park Service used the calf's story to reiterate one of the most important rules about wildlife in parks: Stay away from the wildlife. "Approaching wild animals can drastically affect their well-being and, in this case, their survival," the NPS said, according to KUTV.
If those well-meaning tourists had never tried to "help" the baby bison, it could very well still be hanging with its family, doing bison things right now. Nice way to treat our newest national mammal.