How a Former Hip-Hop Promoter and a Black Church Are Fighting Back Against AIDS Stigma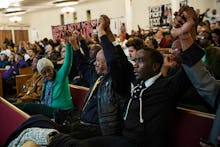 Despite the monumental medical advancements made in treating HIV and AIDS since the disease was first identified in the early 1980s, the stigma surrounding the sexually transmitted infection persists today. 
The abuse and prejudice those with HIV/AIDS face discourages many African-Americans from getting tested, which has led to an explosion of cases within the black community. According to the Center for Disease Control and Prevention, African-Americans are affected by HIV more than any other racial group in the nation.
Traditionally, the Baptist church has not been a safe space for those diagnosed with HIV/AIDS; the church has condemned those infected with the disease, castigating people who have multiple sex partners and advocating abstinence until marriage.
But a Baptist church in Harlem in New York City is fighting alongside famed hip-hop promoter Maria Davis to help combat the HIV/AIDS epidemic, raising awareness about sexual health and educating people on sexually transmitted diseases. It's a departure from conventional Baptist doctrine. 
Read more: Here's What Some Black LGBTQ People Are Doing to Survive in the Age of HIV
"Well, this issue is so very passionate to me because I've been living with AIDS for 17 years," Davis said in an interview outside of the First Corinthian Baptist Church in Harlem.  "And been HIV positive for 20. I made a pact with God, that if he allowed me to get better, feel better, then I would do better as far as my community and reaching out." 
It was that pact with God that led Davis to the First Corinthian Baptist Church, where she has worked with the Rev. Michael Walrond to help fight the stigma surrounding HIV/AIDS. The duo then formed the IMANI Ministry, which seeks to "combat the epidemic through HIV education, testing, counseling and condom distribution," according to a press release provided to Mic.
"Pastor has opened the doors for us to do HIV testing, we give out condoms, not many churches are giving out condoms," Davis said. "We give out lubricant. We give out important information because we can't have a conversation about HIV and don't have a conversation about sex. And you know sex in the church, sexual health, that's hands off, that's taboo. Nobody wants to talk about sex."
Davis, a legendary music promoter who appeared on Jay Z's first album Reasonable Doubt, passed out shirts early Sunday morning outside of the First Corinthian Baptist Church for the 31st annual AIDS Walk in New York City. "We're excited, we've got our team from First Corinthian Baptist Church," she said Sunday morning. The church's team calls themselves the Mad Soul Runners. "We're walking to save lives," she said.
Twenty years earlier, Davis was a recognized name in hip-hop circles. Best known for her hip-hop parties called "Mad Wednesdays" and for helping launch the careers of artists like Brandy, Jay Z and P. Diddy, she was considered hip-hop royalty. But in 1995, her life changed. That's the year Davis was diagnosed with HIV. 
For the past two decades, Davis has taken on an active role in the fight against HIV/AIDS. According to HIV Plus Magazine, she has worked on several initiatives in the past, such as Lifebeat: Music Fights HIV/AIDS, BET's Rap-It-Up Campaign and served as the keynote speaker at the National Black Leadership Commission on AIDS. Now, Davis is offering her advice to those living with HIV/AIDS.
"I was in a prison, but I didn't have to be in one," Davis said, detailing the years she kept her diagnosis a secret. Although more than 1.2 million people are living with HIV, nearly 1 in every 8 persons are unaware of their infection, according to AIDS.gov. 
Davis and the Mad Soul Runners were among thousands who attended the AIDS Walk in New York City's Central Park last weekend. The team, which sang gospel songs in their red and white shirts during the walk, was made up primarily of members of the First Corinthian church congregation and its surrounding community. But Davis had a special message for the younger generation.
"My message is love, but self-love is first," she said. "I don't mean that selfish kind of self-love, I mean that self-love that people see it on you and it's contagious. That infectious type of love. You want to get infected with that. Infected with love for ourselves and infected with love for our communities."