Kim Kardashian West Tweeted About How Much She Loved Cuba — And It Totally Backfired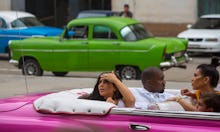 From the looks of one of her latest tweets, it seemed as though Kim Kardashian West needed a crash course in distinguishing between nostalgic charm and abject poverty — and the internet was all too willing to oblige. 
On a trip to Cuba that took place in early May, the Kardashian brood was met with all the usual fanfare — and social media backlash — that comes along whenever any one of them does absolutely anything. 
But this time, Outrage Twitter may actually have a point that's well worth talking about.
While filming scenes for Keeping Up With the Kardashians in Cuba, Kim K sent out a seemingly innocuous tweet about how much she was enjoying her trip.
The problem? She may have accidentally highlighted the huge problem with how tourists from the U.S. look at the Caribbean nation. 
Many were quick to point out that Cuba's stuck-in-time "charm" is a very real result of poverty.
Though it would be difficult to argue that Kardashian West had anything but good intentions in tweeting about how much she loves Cuba, it ignores the fact that, for most of the people who actually live in the impoverished nation, the ubiquity of vintage cars on the streets of Havana is just one of the many consequences of the U.S. trade embargo that ravaged the nation's economy. 
The cars on Cuba's streets that charm Kardashian West and the influx of American tourists so are remnants from the time the Communist Party rose to prominence in the nation, according to the Boston Globe — which means Cubans have kept these cars running for more than 50 years. 
According to 2007 data, only about two percent of Cubans own cars.
So, while you (and Kardashian West) may think an ancient Chevy Bel Air makes for an Instagram photo that's retro-chic, it's just a narrow, photo-friendly window into the harrowing economic realities the Cuban people face every day.
Read more: The Kardashians Are Filming 'KUWTK' in Cuba — And It's Pissing People Off