Singer Lloyd Walked in His High School Graduation More Than 10 Years After Dropping Out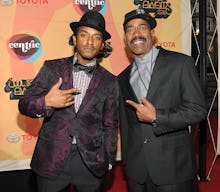 Last December, R&B singer Lloyd, known for his 2000s hits "Get It Shawty" and "Lay It Down," received his GED after reportedly dropping out of high school over a decade ago. According to radio station Power 105.1, Lloyd joined the class of 2016 at Georgia's Therrell High School over the weekend to officially move his tassel to the other side. 
The singer celebrated the day no differently than his fellow grads — with plenty of cap and gown selfies and sentimental Instagram posts. 
In an earlier Instagram post from when he first received his diploma, Lloyd thanked everyone for their support. 
"I want to say thank you to you for your enthusiasm and love, not just toward me, but toward music culture and each other as a whole," Lloyd wrote in the photo's caption. "I hope this message reaches you all in kind, for if it weren't for your love I'm not sure what I'd do, or where I'd be." He ends with the hashtags #GEDFlow, #Appreciation, #FinishWhatYouStart and #YouCanDoIt — encouragement to anyone else out there still working for their diploma or amid the hellscape that is finals. 
Read more: Latino Scholars Are Celebrating Commencement With the Most Amazing Graduation Caps