Black Ice Cream Will Save You From the Rainbow Foods Apocalypse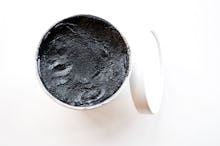 While the rest of the world is busy plotting how to rainbow-fy every food in sight, one New York ice cream maker is running in the complete opposite direction.
Essentially the antipode to neon rainbow-colored bagels, grilled cheese and lattes, Nick Morgenstern, the owner of Morgenstern's Finest Ice Cream in New York City, is adding a black ice cream to his menu. It's seriously black: deep, dark, jet-black black. 
The ice cream — which has a rich, coconut flavor — is not made with any artificial food coloring. Morgenstern didn't use squid ink or sesame seeds, the ingredients often used to color black foods, either. Instead, Morgenstern's secret ingredient is coconut ash.
So WTF is coconut ash? "It's simply the charred and processed remains of a coconut shell," Morgenstern explained at his store. Technically, coconut ash is a form of activated charcoal, a trendy ingredient that has appeared in everything from cocktails to pizza. 
"Activated charcoal is just something organic that has been charred and processed with high heat so that it behaves like a filter," Morgenstern said. Many believe that activated charcoal has health benefits and detoxifying properties (which explains the popularity of charcoal-infused drinks), but there are currently no studies that prove this.
Morgenstern acknowledged that the coconut ash "theoretically has health benefits," but it's not his reason for using it. Instead, he said he's attracted to the flavor and the striking visual component it gives the ice cream. "Food-grade coconut ash is difficult to find," Morgernstern said, which explains why you may have never heard of it before. He said he sources the coconut ash from a health food site. 
"I had been monkeying around with coconut ash for a while and then I had this fancy chocolate bar that used coconut ash," he said. "I knew I had to use it. We wanted to put a coconut ice cream on the menu and it all came together." 
To make the ice cream, Morgenstern said he combines coconut flakes with coconut cream and coconut milk and the ash, "which helps to highlight the coconut flavor."  
Together, the ingredients form a rich coconut-flavored ice cream that is strikingly black. The coconut ash may give the ice cream its great color, but it can also temporarily dye your mouth that inky black. It's probably not the best pick for a first-date dessert.
This is not black food's first debut. In 2014, Burger King made waves in Japan when it released its Kuro burger, featuring black buns and disarmingly black cheese (ew) made with bamboo charcoal and a black squid ink sauce. McDonald's Japan quickly followed suit and launched its own black burger a month later. Maybe one day the fast food joints will be serving up charcoal ice cream soft serve. Only time will tell. 
If there's one thing to take away, it's this: Black will always be the new black. Maybe rainbow foods have dominated your news feed recently, but that's only temporary. This black ice cream has the staying power a multicolored bagel could only dream of.  
Morgenstern's coconut ash ice cream will be available starting May 25.