After Being Beaten for Wearing a Dress, This Queer Man Fought Back in an Inspiring Way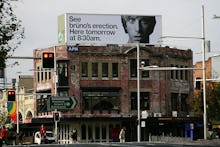 After being brutally beaten while wearing a dress, 25-year-old Isaac Keatinge decided to fight back with a powerful photoshoot. Keatinge, who identifies as queer, was walking in the Newtown neighborhood of Sydney, Australia, in April when three men began verbally attacking him — yelling "anti-gay and anti-transgender slurs," BuzzFeed reported.
When Keatinge approached them, the attack became physical. The attack sent him to the hospital, where he needed stitches. 
Now, Keatinge is responding to the hateful attack with a photoshoot in the Australian magazine Heaps Gay. He also spoke to the magazine about his community's response to the attack and his hope for the future where gendered "rules" are no longer enforced.
"There has been a massive outpouring of support since the attack," Keatinge told Heaps Gay. "However, while Australia continues to be ruled by rich white people, and continues to ignore its violent history/present of oppression and dispossession, it's hard to have faith in the extended, arbitrary and very imagined community we call Australia."
He added, "I suppose I have a sense of faith within our diverse community, and hope that wider society, including Australia, will one day follow suit. The rules of gender are so heavily enforced, and I think certain groups of people have an institutionalized idea of reinforcing those norms. It's almost like there's a vested interest in the pecking order. But the future is so bright!"
Read more: Florida Rep. Ileana Ros-Lehtinen Appears in Pro-Trans Ad With Her Transgender Son