Oregon Democratic Primary 2016: Latest Polls and What to Expect in Clinton-Sanders Race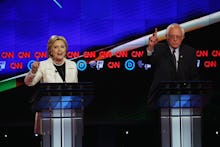 Oregon voters spurned Hillary Clinton during her 2008 presidential run, awarding then-Sen. Barack Obama an 18-point victory. That defeat came well after the delegate math had all but eliminated a viable path for Clinton's nomination — but eight years later, with her nomination this time all but assured, she may lose the state once again on Tuesday.
Bernie Sanders enters the primary with the wind at his back after victories in Indiana and West Virginia this month, and Oregon's demographics give him an excellent chance of continuing his May winning streak.
Read more: One Chart Shows Bernie Sanders' Health Care Plan Is the Most Popular in the Race
The Vermont senator, who's struggled among voters of color, faces a Democratic primary electorate in Oregon that's much whiter than average, and his fiery progressive pitch should garner substantial support in left-leaning metropolises like Portland and Eugene. Oregon is also home to Jeff Merkley, the only sitting member of the United States Senate to publicly endorse Sanders' bid.
But the state's other senator, Ron Wyden, and its governor, Kate Brown, have endorsed Clinton, and while Sanders has dominated other contests in the region, a win for the former secretary of state isn't out of the question.
The only public poll to emerge from the state in recent weeks gave Clinton a 48% to 33% lead over Sanders, though it sampled only a little more than 300 Democratic voters. Oregon's primary is also a closed contest, meaning non-Democrats can't vote; Sanders has done best in open contests, while Clinton tends to win when only registered Democrats can participate.
No matter the outcome on Tuesday, Clinton will remain on track for the Democratic nomination. She's won 2,240 of the 2,383 delegates required to clinch the nod, while Sanders lags at 1,473 delegates. To hit the magic number, Clinton needs to win less than 14% of the remaining delegates up for grabs.
There are 61 pledged delegates at stake in Oregon on Tuesday, and the final polls close at 11 p.m. Eastern.