Kentucky Democratic Primary 2016: Latest Polls and What to Expect in Clinton-Sanders Race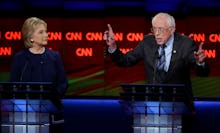 One week after her thrashing in the West Virginia Democratic primary, frontrunner Hillary Clinton hopes to avoid yet another loss in Coal Country on Tuesday, when voters head to the polls in Kentucky.
Like West Virginia, Clinton handily won the Bluegrass State during her 2008 presidential bid. Now, she faces headwinds amid her controversial comments about putting coal miners "out of business" and the persistent unpopularity in the region of President Barack Obama, whom Clinton served as secretary of state following her primary loss eight years ago.
Read more: One Chart Shows Bernie Sanders' Health Care Plan Is the Most Popular in the Race
But while Clinton's 16-point loss in West Virginia wasn't exactly a good omen for her chances in Kentucky, there are signs she may yet prevail on Tuesday. According to data from FiveThirtyEight, Kentucky's Democratic primary electorate is only 72% white, with blacks comprising 21% — compared to a West Virginia electorate that was 92% white and only 3% black, according to exit polling. Clinton does far better than Sanders with voters of color, and if she can prevent him from crushing her with white voters, a victory may lie in store.
Moreover, after falling to Sanders in Indiana and West Virginia, Clinton has worked painstakingly to avoid a third consecutive loss, hitting the Kentucky airwaves after not advertising in the former two states and pressing the flesh at retail-style stops.
Polling offers little guidance as to the ultimate outcome. There hasn't been a public survey in Kentucky since March, when Public Policy Polling found Clinton edging Sanders 43% to 38%. But with Clinton needing only 14% of the remaining delegates up for grabs to reach the 2,383 delegates required for the nomination, she can afford a loss in Kentucky, which sends 55 pledged delegates to the Democratic National Convention — even if she'd rather avoid the embarrassment.
Polls close at 7 p.m. Eastern.