Family Sues Jail for Death of Man With Mental Illness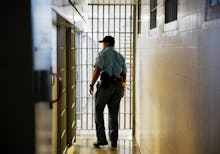 In April 2015, 24-year-old Jamycheal Mitchell was arrested at a Virginia 7-11 for stealing a few dollars worth of snacks. He wouldn't live to see 25. 
While serving time in Hampton Roads Regional Jail in Portsmouth, Virginia, Mitchell, his family alleged, was denied basic human rights, leading to his starvation death in August. 
In a lawsuit brought by the former inmate's family, Mitchell's family alleged they were at times denied visitation, according to CNN. Among the defendants named in the $60 million lawsuit are the jail, the state Department of Behavioral Health and Developmental Services and the private prison health care firm NaphCare; the lawsuit cites five counts of civil rights deprivation and willful and wanton negligence.
Read more: This Is What It's Like to Be Addicted to Drugs in Prison
"The way Jamycheal got treated is terrible," said former inmate Justin Dillon, who found Mitchell's body, told WAVY. "His cell was stripped, he had no cup, no spoon, no shower shoes, no socks, no underwear, no shirt, no blanket, no pillow, nothing. He had nothing."
Other inmates have come forward about the atrocities they witnessed while serving time with Mitchell, who was schizophrenic. The jail, they said, cut Mitchell's food and medication supply after several outbursts proved him difficult to manage, and even allegedly turned off his cell's water supply and toilet after he attempted to flush his clothes down the pipe. 
Near the end of his life, the lawsuit alleged, Mitchell spent his days sleeping on a metal sheet, standing under a light for warmth in the frigid cold and screaming in his cell.
"There were fruit flies all over the place, it was disgusting. You almost gagged going by his door, that's how strong it was," Dillon said. 
The jail and NaphCare have since cut ties, and the company's attorney is alleging Mitchell's death was the fault of the state. 
"The investigative reports of his death suggest gaps and failures within the state's mental health system prevented Mr. Mitchell from receiving the inpatient care he needed," NaphCare's statement read. "The allegations of indifference and neglect against NaphCare's providers are false and unfounded. NaphCare will vigorously defend these false allegations."