Connecticut Woman Who Donated Hair to Cancer Patients Is Victim of Transphobic Attack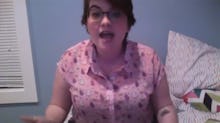 Aimee Toms' story proves no good deed goes unpunished. On Friday, Toms, 22, was washing her hands in a Walmart bathroom in Danbury, Connecticut, when another woman accosted her, seemingly at random, hurling insults at her and ultimately flipping her off, she told the News-Times. 
Read more: President Obama Issues Historic Declaration on Trans People in Public School Bathrooms
"You're disgusting!" the woman reportedly told Toms, according to the News-Times. "You don't belong here!" The woman then gave Toms the finger before storming out of the bathroom. 
Aimee Toms had recently donated her hair to cancer patients. The woman verbally assaulting her in the bathroom thought that Toms, wearing a baseball cap over her short hair, was transgender.
Later, in a message posted to Facebook, Toms hit upon the truth. "She just thought I was somebody who was transgender," she says in a video. "She thought I was a dude who was hiding in the women's bathroom." The incident comes at a time that bathrooms — and who can use which ones — are at the center of a national debate about transgender rights. Nowhere is the debate more heated than North Carolina, where a bill barring transgender people from using the bathroom that matches their gender identity has tipped off a legal battle between the state and federal governments. 
At the time Toms was harassed in the bathroom, she was wearing a baseball cap and and her hair was short since she had recently donated much of it to a charity that makes wigs for people with cancer, the News-Times reported.
Toms likened the incident to discrimination in the past. "This same thing happened in the 1960s when black people wanted to use the same bathrooms as white people," she says in the Facebook video. "They were assaulted, they were arrested, they were discriminated against. This is nothing different; history repeats itself."
"I'll bet you a million dollars the same people that are getting all up in arms about transgender people using the bathrooms they prefer, are the same people who probably didn't want black people using the same water fountains as them," she says. 
The outrage is only the latest chapter in the increasingly contentious issue of transgender bathroom access. Nationally, Wal-Mart has remained silent on the issue, while one of its chief competitors, Target, has made a statement in favor of people using the bathroom of their choice. Nationally, both Donald Trump and former Secretary of State Hillary Clinton are in agreement that laws passed against bathroom inclusion are not helpful, but Trump has said the matter should be left to the states to decide.