Justin Trudeau Announces Sweeping Transgender Rights Law in Canada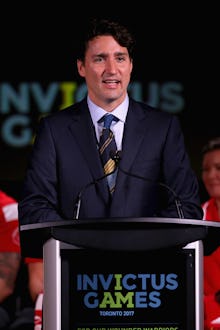 At a time when transgender people face increased scrutiny and discrimination in public spaces, particularly in the United States, Canadian Prime Minister Justin Trudeau announced that his government would move forward with a sweeping transgender protections law, the Canadian Broadcasting Corporation reported Monday.
"I am proud to announce that tomorrow, on the International Day Against Homophobia and Transphobia, we will be tabling a bill in the House of Commons to ensure the full protection of transgender people," said Trudeau Monday during an award ceremony honoring him for his work against homophobia and transphobia, the CBC reported.
Read more: Journalist Challenges Justin Trudeau to Explain Quantum Computing, Trudeau Nails It
The Prime Minister declined to elaborate on the details, but the bill would reportedly update the country's Human Rights Act to include transgender persons as a protected class and "as a prohibited ground for discrimination."
The move will likely solidify Trudeau's well-calibrated status as a liberal icon. 
Meanwhile, in the U.S., the debate over where trans people should use the bathroom has taken center stage in the culture wars. 
After North Carolina's HB2 law required transgender citizens of the Tar Heel State to use the restroom corresponding to their gender assigned at birth, President Barack Obama fired back with a federal directive to all public schools in the United States to allow students to use the restroom of their choice. Both parties are now suing each other. 
On the presidential level, former Secretary of State Hillary Clinton and real estate mogul Donald Trump have both come out against state laws that would discriminate against transgender individuals, though Trump has said he would rescind Obama's order and devolve the issue to the states.