Beyoncé's "Formation" Was Used In a Fashion Show Starring Only White Models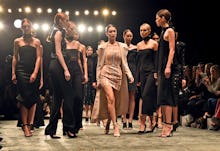 Beyoncé's booming anthem "Formation" is a song that can be enjoyed by quite literally anyone, but when it's used as the soundtrack to a fashion show with solely white models, people get ticked. 
Via an Instagram video first unearthed by Yahoo, the Australian label Misha Collection blasted the song during its finale at Mercedes-Benz Fashion Week Australia, with a trail of white models bopping down the runway. While supermodel Bella Hadid was a notable face, no models of color were cast in the show. 
It's not that white people can't enjoy a song like "Formation." It's that "Formation" has been hailed time and time again as a black empowerment anthem, with Mic's own Jamilah King writing that the music video for the song was, "composed of black cultural symbols ranging from antebellum southern fashion, hot sauce swag and Black Lives Matter." 
Beyoncé also performed the song alongside dancers dressed in Black Panther-themed outfits at Super Bowl 50. According to Essence, the song is "wholly and undeniable a tribute to Blackness — particularly Black girl power." 
Read more: Beyoncé's 'Lemonade' Is What Happens When Black Women Control Their Art
So having only white models prance down a runway to it seems off-base. It's not what the song was meant to showcase, in any sense. Really, it's quite the opposite. 
Below the Instagram video, fans were quick to point that out. "No black models yet they're walking to a song about black empowerment?" one commenter wrote. Another: "This song is an ode to powerful black women around the world, so where are the black women???" 
Australia Fashion Week isn't known for being the most diverse, with BuzzFeed pointing out in 2013 that just one black model walked. But it's not even just an Australian fashion problem, with fashion weeks around the world as a whole, per the Fashion Spot's semiannual diversity reports, creeping towards a truly diverse showcase of models every year. Just this past season, more than 75% of models cast in fashion weeks were white. 
Especially with Beyoncé already a champion for diverse models, regularly casting models with vitiligo, albinism and with disabilities, the problem with using one of her songs for a show with all-white, cis and female models was all too obvious not to point out. 
More and more, it seems, while pop culture is moving towards a more inclusive future, fashion is stumbling in high heels behind. 
h/t Racked