Nick Jonas Reveals His "Erotic" Experience at a Gay Club on Carpool Karaoke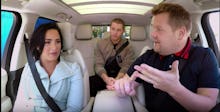 James Corden, ever the horrible navigator of Los Angeles, requested more high-profile help to get him to work, this time enlisting Demi Lovato and Nick Jonas for The Late Late Show's Carpool Karaoke series. The two singers are about to go on tour together, but Corden's interest was in their personal life, as he probed them about any potential romantic interest in one another, which they jokingly scoffed at. 
One particularly salacious tidbit to come out of the segment was Jonas' confession about performing at a gay club.
"I performed at a gay club one time and they literally chained me to the wall as I'm performing the song," Jonas says. "It was very, very erotic."
Naturally, they began to sing along to familiar tunes, including "Heart Attack," "Jealous" and "Cake by the Ocean," by DNCE, which features Jonas' brother Joe. However, their most entertaining performance came during a rendition of "Close," as the trio took the song's chorus quite literally at the center of the car. 
Every time Corden and his Carpool Karaoke guests perform, the artists usually admit they're impressed with his singing ability, and have facetiously invited him to tag along. But Corden was adamant he'd make a great addition to Jonas and Lovato's tour, and all they'd have to do is use the band name JND. To prove his point, they took their act to the sidewalk for an impromptu performance of "Confident."  
Onlookers were impressed enough to hand out some tips, but Jonas and Lovato were unconvinced they'd take Corden on tour just yet; they'd rather wait a year and revisit. In the meantime, however, there's no reason to believe Corden won't continually ask artists for help on the road and share some tunes. Perhaps one of them will finally give him a chance to shine. 
Watch the full Carpool Karaoke below: 
Read more: George Clooney and Julia Roberts Hitch a Ride in Gwen Stefani's Carpool Karaoke