According to Ben & Jerry's Newest Flavor, This Is What Democracy Tastes Like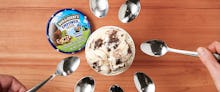 It's no secret that the folks behind their eponymous ice cream brand Ben & Jerry's are politically active. Co-founders Ben Cohen and Jerry Greenfield were recently arrested at a protest in Washington, D.C., and have been leaders in raising awareness about climate change for some time.  
On Tuesday, Ben & Jerry's promoted its democratic principles in grocery freezer aisles across the nation with the launch of Empower Mint, a peppermint ice cream with fudge brownies and fudge swirls, which is dedicated to the preservation of democracy.
"This flavor will benefit the [North Carolina's National Association for the Advancement of Colored People], an organization dedicated to ensuring the political, educational, social and economic equality of rights of all persons and eliminating racial hatred and discrimination," the company wrote on a Facebook event for the flavor's launch. 
"At its core, a true democracy should serve everyone's interests, not just the wealthy few," Ben & Jerry's posted on its website. "And the only way we can know what those interests are is by ensuring everyone can easily cast their vote and make their voice heard. Plus, getting rid of the big money that seeks to drown out the voices of the people in our elections certainly wouldn't hurt either."
While the creamy flavor has not yet reached all store shelves, an ice cream reviewer at On Second Scoop says the new treat has an "excellent peppermint base [with] a nice cooling factor without being overpowering." And the chocolate? "The fudge swirl is excellent and I'm not usually a fan of things like their fudge cores. Brownies round it out." Sounds good.
While there's a variation to it, the new flavor is awfully reminiscent of Bernie's Yearning, a flavor produced in limited release (not officially associated with the Ben & Jerry's brand), dedicated to Democratic presidential hopeful Bernie Sanders. That particular flavor was made of mint ice cream and topped off with a hard chocolate disc. The packaging says the disproportionate layering "represents the huge majority of economic gains that have gone to the top 1% since the end of the recession. Beneath it, the rest of us."
Empower Mint's mission certainly isn't as in-your-face. Could Ben & Jerry's be giving up on Bernie? Or are they just trying to capitalize on all voters who happen to enjoy a minty dessert?