Baghdad Blasts Kill at Least 72 — ISIS Claims Responsibility for at Least 38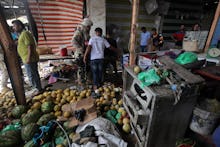 Four bombs in different open-air markets exploded across Baghdad, Iraq, Tuesday leaving at least 72 dead and 140 injured.
The Islamic State group, also known as ISIS, has claimed responsibility for the biggest attack, which left 38 dead and more than 70 wounded, Reuters reported. 
In the ISIS attacks, bombers first detonated an explosion along the market walls in al-Shaab and, after people rushed to assist victims, a second was detonated by a suicide bomber, the Associated Press reported. 
The Independent reported the suicide bomber was female.
All of the areas targeted in Tuesday's attacks are predominantly Shia Muslim; ISIS — a Sunni terrorist network — regards the Shia sect as inferior. 
According to CNN, as of Monday, ISIS attacks had claimed at least 100 lives in the past week alone. 
On Wednesday, ISIS orchestrated a similar series of four car bombs in majority-Shia areas of Baghdad, leaving at least 88 dead.
ISIS' increasing number of terrorist attacks across Iraq signal a tightening stronghold in the region. Given Iraq's vulnerability, there remains the possibility that consistent acts of violence and concomitant instability will create a political vacuum for the network to exploit, further entrenching itself in the Middle East. 
May 17, 2016, 3:24 p.m. Eastern: This story has been updated.