There's a Perfectly Good Explanation for Why This Corpse Is Going Through Airport Security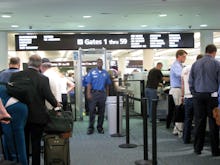 A crusty corpse was wheeled through the Hartsfield-Jackson Atlanta International Airport TSA checkpoint on Sunday. We imagine that the rest of the airport's exhausted travelers likely saw this monster and said, "same."
The #nofilter cadaver was posted on the TSA Instagram account over the weekend — it's not a real dead body, but a movie prop from the Texas Chainsaw Massacre movie, the caption reads. The "crusty ol' chap," as the TSA put it, went through the security checkpoint for screening and was "sent on his jolly way." 
The TSA Instagram is notorious for posting photos of confiscated gems, such as a bejeweled lipstick gun, a marijuana-stuffed soda can, brass knuckles, nunchucks and a ridiculous number of throwing stars. 
Lucky for creepy corpse, it made it through security. Unlucky for passengers on its flight, the cadaver joined the living, breathing humans in the cabin, and was not checked into stowaway.