Chrissy Teigen Called John Legend a DILF on Instagram, and She Ain't Wrong!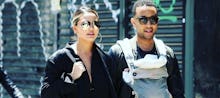 After Chrissy Teigen gave birth to daughter Luna last month, her husband John Legend underwent a transformation of his own. He was upgraded from regular ol' hot guy to official DILF status, as Teigen officially announced on Instagram Monday:
Teigen captioned the pic with three simple words:
Get it, dilf!!
It's a fair and accurate caption. DILFs can indeed get it. 
From viral Instagram accounts like the DILFs of Disneyland to People's "Sexiest Dad Alive" title (Hi, Ryan Reynolds), it's easy to see the appeal of a hot man who also happens to be a father. He's masculine and rugged, but he also has a nurturing soft side! Swoon. Imagine him feeding his baby with a little airplane spoon, using his hot man-hands. 
Some might say that it is a little weird that men achieve sex-symbol status just for performing their, like, standard parental duties. But whatever. DILFs are bae.
h/t Us Weekly