Lena Dunham Is About to Break the Internet With a New Book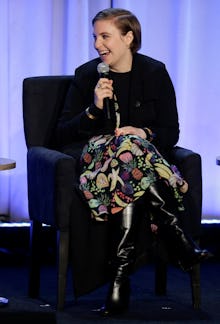 No doubt inspired by Queen Beyoncé, Lena Dunham announced Tuesday she'll be dropping a book entitled Is it Evil Not to Be Sure? online. If they're quick enough, Dunham fans can purchase one of the 2,000 signed copies going on sale via her Lenny Letter website at noon Eastern. 
Is it Evil Not to Be Sure? is a selection of diary entries from 2006 to 2007, when the actress, director, producer and writer was around 19 years old. 
All the profits from her book will go to the organization Girls Write Now, a mentorship program encouraging girls to write by pairing them with women who are professional writers. 
Dunham spoke to BuzzFeed about her decision to publish the book:
Earlier this year, recuperating in bed from surgery and feeling painfully adult, I found my journals from 2005-2006 on an old hard drive. I was, of course, full of the kind of mortification that is part and parcel with meeting a former version of yourself, a woefully misguided girl desperate to be embraced by even the least exemplary specimens of young American malehood. But I was also moved by — maybe even proud of — how carefully I had recorded that period of time, my younger self's commitment to capturing the kinds of hyper-internal formative moments so often lost to adulthood. I have always believed that women chronicling their own lives, even (or especially) at their most mundane, is a radical act. That's why I thought the diaries might be worth sharing as a short book, with proceeds going to Girls Write Now and their mission to give young women the tools to tell their own stories. I can't think of a more admirable goal for an organization, or a better reason to expose the oft-troubling thought patterns of my final teenage year.
Dunham announced in February she would be taking time off from promotion for the then-forthcoming fifth season of Girls due to her endometriosis. The following month, she had to have emergency surgery for an ovarian cyst which unexpectedly burst. It was during this time, Dunham said, that she got the idea for her book. 
Read more: Lena Dunham and Gloria Steinem Reveal the Secret to Being a Good Feminist Boyfriend