At the Webby Awards, Kim Kardashian Silenced Her Slut-Shamers With Just 5 Words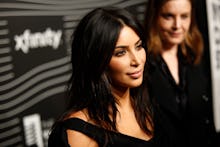 Kim Kardashian West is nothing if not a poster child for the mantra "you do you."
When the reality star received the Break the Internet award at Monday's Webby Awards, she made the most of the five words the ceremony allows for winners' acceptance speeches: 
"Nude selfies 'til I die," Kardashian West said.
According to E! News, it was the first time the Webby's gave out the award, which was named for Kardashian West's Paper magazine nude cover. 
She earned the eponymous honor for "unparalleled success online" and for inventing a "new type of celebrity."
Kardashian West sent the internet into a frenzy again in March when she posted a naked selfie with the cheeky caption.
Naturally, the resulting backlash included body-shamers who slammed Kardashian West for exposing herself, accusing her of being a bad mother and bad role model for young girls.
She took out everyone from Piers Morgan to Bette Midler and Chloë Grace Moretz, defending her right to do what she pleases with her body. 
Kardashian West has broken the internet more than a few times, and haters better brace themselves — as the star foreshadowed on Monday, there's more to come.
Read more: Kim Kardashian Doesn't Want to Hear You Slut-Shame Her for Her Sex Tape Anymore