Demi Lovato and Nick Jonas Dissect Their Dating Lives in Carpool Karaoke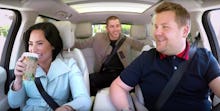 It's rare to catch Demi Lovato without Nick Jonas these days. 
Best buds and former Disney Channel co-stars celebrated their "10th year of friendship" in a carpool karaoke session with James Corden. The pair discussed their bro-tastic bond and their individual dating lives between renditions of Lovato's "Heart Attack," Jonas' "Close" and Jonas brother Joe's new project DNCE's "Cake by the Ocean."
Read more: George Clooney and Julia Roberts Hitch a Ride in Gwen Stefani's Carpool Karaoke
Lovato just left her dating preferences to two words ("older guys") as a way to rule out the 23-year-old Jonas. Jonas didn't get off anywhere near as easy.
They talked Jonas' back to back flings with Miley Cyrus and Selena Gomez, before finding a "real relationship with an adult." Of course, Corden couldn't resist nettling Jonas about his promise ring and why he wore it for so long.
"I had a real relationship with an adult, and I fell in love actually, and I decided it was time to take the purity ring off," Jonas explained. "Are we going to keep talking about my dating life?"
Thankfully for him, that answer was no. They swung back to Corden's favorite talking points — starting a band and getting himself a proper stage debut. "Let me level with you," Corden said. "I do this a lot with people: I sing in the car, and they go, 'Ah man we should form a band, that would be amazing!' And I go 'Yes it would!' And I never hear from them."
To see how deep the musical chemistry goes, they decided to take their song-a-long to the streets to busk Lovato's "Confident."
They ended up making a pretty substantial haul from a passing TMZ tour bus. Watch the full karaoke session below.